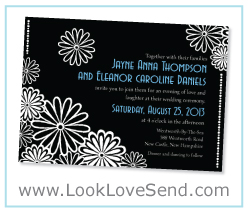 Are you planning a wedding but can't seem to find the invitations you want in stores or from overpriced vendors? We allow you to create your own wedding invitations online for a fraction of what you would pay elsewhere. In fact, we are one of the most reputable wedding invitation companies in the market with our fast shipping, attentive customer service, plentiful variety, and low prices.
To Create Your Own Wedding Invitations Online Trust Us!
We offer a variety of sizes, layouts, and designs. When you create your own wedding invitations online with us, you can tailor your invitations to fit your personal style and theme. You do not have to adapt to what we offer. Whether you are having a traditional and simply wedding or a creative, off-beat wedding, we know that we can fulfill your needs.
We use only the best quality papers, durable cardstock, and the finest inks when you create your own wedding invitations online with us. Most brides find themselves so pleased with their wedding invitations that they also want to create their bridal announcements, bridal shower invitations, and thank you cards with us as well.
Planning a wedding can be stressful and taxing. Creating your invitations does not have to be. In fact, many brides who use us for their wedding invitations find the process to be fun and allows them an opportunity to be artistic! We ship all create your own wedding invitation orders the day after the order is placed. We are so confident that you will like the finished product that we offer a 100% satisfaction guarantee to our customers as well. We even grant free domestic ground shipping to customers who order 50 cards or more.
For you wedding, you deserve the best. You deserve the best quality, the lowest prices, and the best customer service. Our satisfied customers can vouch when I tell you that LoveLookSend is the best in the business.