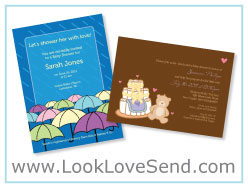 Are you planning a baby shower, and you're not quite sure where to start? Have you thought, "I wish I could make my own baby shower invitations!" We are the perfect place to start in the process. We offer some of the sleekest, classiest, most creative baby shower invitations available in stores and the web. Our customers continually wind up happy and continue to use us for wedding invitations, birthday party invitations, and graduation announcements. We can do it all.
Many of our customers find us after having spent hours frustrated, unable to find exactly what they want and need in stores. After looking at countless invitations that do not fit their personality or style, they think – I wish I could make my own baby shower invitations the way I want them! Now you can.
Make My Own Baby Shower Invitations Is A Fun Activity
We offer a variety of different sizes, colors, designs, layout, as well as different paper and quality inks to use on your invitations. The end result is a sleek and classy way to make your own baby shower invitations. You can tailor it to the baby shower's theme as well as the guest of honor's personal taste.
We offer one of the most generous and flexible return policies. If you are not satisfied, we back up our invitations 100%. We want our customers to be happy and satisfied with their purchase. If you are running low on time, we have good news for you. When you order through us, we ship all orders the next day, so the turn around is quick. As a bonus, folks who order 50 cards or more also receive free domestic ground shipping as well.
Magazines such as BRIDES, The Knot, and FitPregnancy have featured us in their publications as a reputable and reliable company. If you tired and frustrated with the same generic invitations found in stores, and you've thought, "I'd like to make my own baby shower invitations," then you should give us a try today.