Making the decision to make own wedding invitations is making the choice to include a bit of yourself with each invitation that goes out. With a common invitation that just anyone can get from the local printer, you will certainly be sending an elegant—and most likely expensive—invitation but it will lack character and personality. When you come to LookLoveSend to craft the invitations to the most important event in your life, you're not only opening the door to entirely new options for invitations—you're making each one your very own, as well.
It's Great To Make Your Own Wedding Invitations Online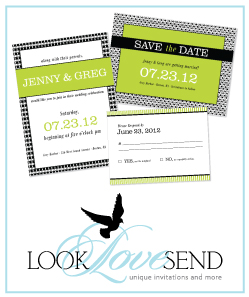 Don't be turned off or overwhelmed at the prospect of designing your wedding invitations. At LookLoveSend we've made it as easy as possible to choose a template and color scheme and add your personal details. With the one of a kind invitation you create, there will be no question as to which invitation is yours. We even have options that allow you to upload a digital photo if you want to personalize your invitation in the ultimate way. When you make your own wedding invitations with us, we guarantee they will be extra special—as a matter of fact, we back that confidence with a 100% satisfaction guarantee on our wedding invitation websites, so you have nothing to risk.
When you make your own wedding invitations at LookLoveSend, we know you'll love the finished product because we have an impressive group of designers who have put together exclusive invitations for our site. We've pledge to use only the best quality paper and inks, too, and we'll get your order out the next business day once you've place it. With all we have to offer, you may wonder why you haven't come to us before. Make the invitations to your once-in-a-lifetime event one-of-a-kind. Make them your own by making them with LookLoveSend.