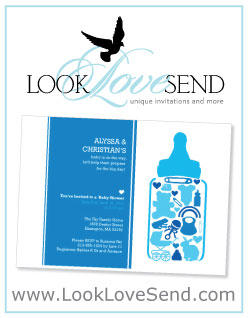 The birth of a baby is a joyous and sacred event, deserving of a wonderful baby shower. Online invitations baby shower are a great choice for anyone wants a creative invitation to send family and friends!
Too often we have plans to create inventive invitations only to find out how expensive it will be. Folks who use LookLoveSend to make online invitations baby shower find the best prices without having to sacrifice quality. We use specialty papers and the best quality, fine inks to use in printing your invitations.
Create Online Invitations Baby Shower Style
Too many individuals think that they are not the creative types, so they don't dare design their own invitation and settle for the generic, store brought stationary. These are boring and outdated, not to mention over priced. If you use LookLoveSend for your online invitations baby shower, you don't have to be creative to come up with a fun, personalized invitation. Whatever themes, color schemes, or styles you are interested in, we can supply it. We also offer invitations for different events which include but are not limited to baby showers, weddings, birthdays, graduations, thank you cards, and holidays. Folks are choosing to have their baby shower invitations online printed on a variety of different sized paper as well! No more boring, generic cards. Our do-it-yourself service allows customers to get creative.
It is no wonder that our business has been featured in national magazines including Brides, The Knot, Parenting, and FitPregnancy. We are so confident that you can create what you want through us that we guaratee our invites 100%. If you are not satisfied with your order, you can send it back for a full refund.
A baby shower is a joyous, special occasion. A fun, personalized invitation can make all the difference. LookLoveSend is confident that they can help you make this day memorable.