Creating the perfect photo holiday cards online to send to your family and friends does not need to be a long, frustrating process. When you order through Looklovesend, you can create a professional, sleek holiday card and have it shipped to your home the very next day!
You Can Make Photo Holiday Cards Online With Our Tools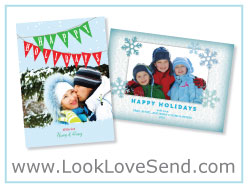 Too many folks find themselves boxed into choosing generic, bland holiday cards because they are unaware of all their options. The truth is, creating photo holiday cards online is easy, inexpensive, and allows for some creativity. They also find that the quality is superior. We print our cards on the highest quality papers and inks. We give our customers creative license by allowing them to choose the layout, colors, and themes they wish to use on their card. Additionally, we cater to a number of different holidays, whether you celebrate Christmas, Hannukah, Kwanza, or others.
You will not find a better bargain anywhere online or in stores. When you consider our unbeatable prices and high quality cards, it is no wonder that we have been featured in magazines such as Brides, The Bump, FitPregnancy, The Knot, Parenting, and others for online holiday cards. Our strong reputation speaks for itself.
Perhaps you are worried about ordering photo holiday cards online because you may receive your order and be displeased. No problem! We are flexible. We back all of our orders with a 100% money back guarantee. We also offer free domestic shipping on orders of 50 cards or more. If you are facing a time crunch, we can work with you. We ship all of our orders the very next business day.
If you are looking for unique and high quality photo holiday cards online to send to your friends and family this upcoming holiday season, look no further than Looklovesend. You will not find prices this low anywhere online or in stores!