10:46 pm Posted by Kristy
Watching Prince William and his new bride Kate Middleton drive off in an unattainably cool Aston-Martin after their wedding ceremony put the stylish wedding getaway car firmly back on the wedding planning agenda.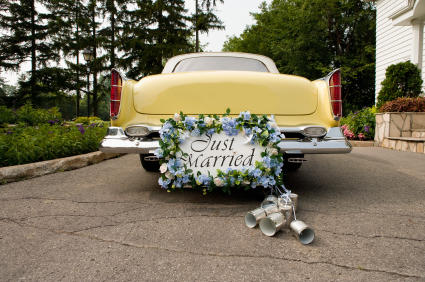 The traditional departure of the bride and groom in a 'just married' vehicle isn't quite the grand event it used to be. No longer is the wedding night necessarily the first night a bride and groom spend together alone. In addition, wedding receptions often relocate so partying lingers into the early hours of the morning. And, newlyweds often reappear the next morning at post-wedding brunch. All this has lessened the drama surrounding a farewell send-off in a special car.
Even so, you needn't miss out on an opportunity to ride away in style on your wedding day. Choose a mode of transportation that you'll love. There's no rule that says follow the same theme as your wedding. Here are several choices to consider for arriving or departing, either to or from your wedding ceremony and or reception:
Horse and Carriage – Top off your Cinderella-style dream wedding  with the classic horse-drawn carriage.
Antique or Vintage Luxury Car – Squeeze some romance from history in a Studabaker, Rolls Royce, Bentley.
Classic Mid-Century Car – Glistening chrome and curving fins on a 1957 Chevy Bel Air or Chrysler 300 make perfect wedding bling.
Sports Car or Roadster – Convertible anything looks great, but for extra style go for a 1960s Corvette, Mazda RX-7 or a Mustang. Get lucky by scoring access to a British Classic, like a Jaguar.
Statement Vehicle – Put your personality firmly behind the wheel in anything bold from VolksWagon Bus to Stretch Hummer to motorcycle.
Boat – Take advantage if water is part of your wedding surroundings with a vintage boat
Make your final appearance count with a classy, stylish and memorable car. For classy, stylish and memorable wedding invitations, look no further than the collections at www.LookLoveSend.com. Enter the monthly wedding sweepstakes for a chance to win $500 towards your entire wedding invitation suite, from save the date cards through ceremony programs and wedding thank you notes. The high quality paper stock and crisp, clear printing will distinguish your invitations, and you can personalize all your components in a few quick clicks. It's easy and affordable!