With Father's Day being less than three weeks away, now is a good time to get your kids started on a homemade craft to give Dad on June 19th. "Reduce, Reuse, Recycle" is a common catchphrase for most elementary age school kids today; so why not emphasize this expression by making a craft with items found (mostly) around the house?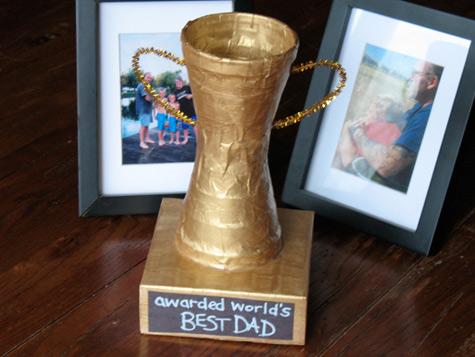 This cute "World's Best Dad" trophy is easy to make, requires very few materials, and can be customized to be a long-treasured keepsake on dad's desk or shelf.
Detailed instructions for this craft can be found on parenting site Kaboose.com that features manychild-friendly crafts for each season and special event. With so manyhow-to sites to choose from, I find that Kaboose is particularly good with its designated age recommendations, clear list of required materials, and step-by-step photos to guide craft-challenged parents such as myself.
For further personalization, change the trophy label to include the child's name or include a poem such as the one below:
Dad, I love youFor all that you do.I'll kiss you and hug you'Cause you love me, too.You feed me and need meTo teach you to play.So smile 'cause I love youOn this Father's Day.Nothing beats a handmade gift or card for Father's Day, but for other special occasions such as birthday parties, Bat Mitzvahs, or Anniversary parties, consider sending a professionally designed and customizable card.
LookLoveSend
is constantly adding new designs to its inventory of fantastic card designs.
Subscribe
to our mailing list to receive 20% off your first order with us.