If you are hosting a bridal shower for someone who loves a fun night out with close girlfriends, why not throw her a sophisticated cocktail party style shower that she will be sure to remember? We've all been to a traditional bridal shower, whether the "kitchen theme" with its kitchen-themed gifts and recipe exchanges. Or the "around the clock" theme for which each guest must match her gift with something used at that particular time of day. And while these typical theme parties lend themselves to fun activities and easy interaction between guests, they may not be the first choice of every bride-to-be.
Hosting a less traditional evening bridal shower allows guests to dress up, mingle, and watch gifts being opened in the fun atmosphere of a pre-bachelorette party. Planning for such an event can be simple and mostly done in advance, here are some tips.
Prepare a selection of simple hors d'oeuvres ahead of time, arranged in buffet style with small plates or cocktail napkins.
Setup a bar including non-alcoholic beverages and perhaps a signature punch for the bride-to-be.
Play soft but modern background music
Choose an inexpensive theme-based favor gift, such as a decorated martini glass (bought in a set but presented singly).
And how about this for the perfect bridal shower invitation for the event, it is titled "Pink and Black Damask Bride" by designer Amanda Zoss?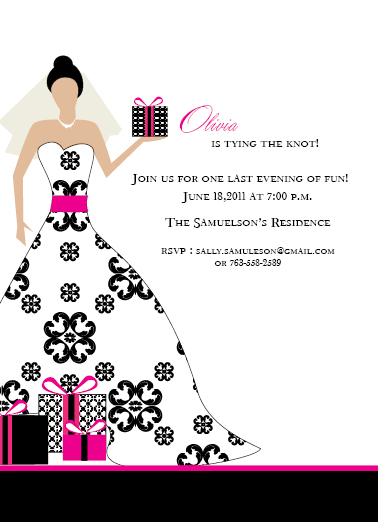 This shower invitation is part of a great selection offered at LookLoveSend.com.  Join now to receive 20% off your first order.