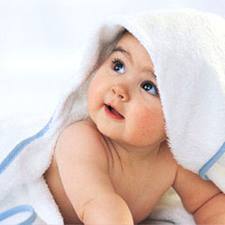 Let's face it.  By the time we receive a baby birth announcement in the mail, we often know the name, stats, and birthdate of the new bundle of joy.  But the one detail that may be a birth announcement surprise is baby's middle name.  For some new parents, the middle name is an important part of the whole baby naming process, while for others it's a filler name to adhere the first name to the last.  Whichever your opinion, here are some tips on choosing a middle name for your baby:
Say your baby middle name ideas with the first and last name together. The ideal middle name should flow easily.
Vary the number of syllables in each name; if you have a long first and last name, choose a shorter middle name.
If you are choosing a highly unusual first name, pick a more conventional middle name so your child will have the option of going by that middle name in later professional life if wanted.
Use a family name if you want to honor a family member but don't love the name.  Many parents also use the mother's maiden name for a middle name as a way to embrace both sides of the family.
Don't pick every name you love but don't have enough kids for.  Unless your family tradition says otherwise, choose just one middle name for your child – think ahead to all those official forms with limited spaces later in life!
Don't disregard the importance of a middle name.  Even if you've settled on the perfect first name, don't be tempted to skip the middle name. Again, thinking ahead to your child's adult life, a middle name is helpful to confirm identify for background or credit checks – particularly in the case of a common first and last name.
Announce your baby's middle name in style by selecting one of LookLoveSend's fresh custom birth announcements.  Shop for boy, girl, multiple or gender neutral designs, all printed on the highest-quality paper stock.