"I promise to love you for richer, for poorer, when the Sox are winning, and when they are losing". Don't be surprised if you hear wedding vows along these lines at the next wedding you attend. Wedding ceremonies today are becoming more personalized as couples plan weddings that reflect their hobbies, tastes and likes.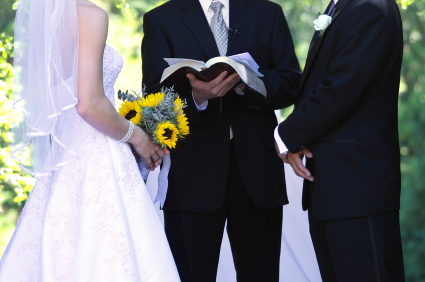 In addition to hand-written vows, another trend is for someone who isn't a judge or other ordained official to perform the ceremony. Asking someone close to the bride and groom to preside over the ceremony is extremely meaningful for the participants and likely to result in a very heartfelt and memorable ceremony. And the process to make this happen is surprisingly simple via either of two options.
Register for free online ordination with the Universal Life Church Monastery. According to a "Gen Wed" article in Brides magazine (June 2011 edition) this site receives approximately 750 requests per day for free online ordination, which is more than double the rate in 2002.
Submit a minimal fee and letter of recommendation to your designated state authority; guidance for what is required by state can be found on many sites.
If you are planning an intimate wedding, consider personalized vows and a loved one as your officiant to perfectly set that tone. For wedding invitations and other stationery needs, check out LookLoveSend's growing collection of designer cards. Subscribe to our mailing list and receive 20% off your first order.