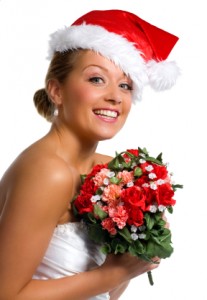 The glitter and sparkle of the holiday season often entice couples to plan their wedding day for this time of year. If you're one open to considering sending holiday wedding invitations in the midst of holiday hoopla, you join good company to take advantage of some unique wedding planning details.
There are a variety of great reasons to consider a holiday wedding, whether just in terms of timing or theme:
Families and friends will be gathered already! Planning for holiday gatherings occur several weeks to months out, and most people accept the fact that they will need to budget for travel expenses to make these gatherings happen. You need to be strategic in getting in on those plans before plans are made, so be sure to send save the date cards to everyone.

Popular venues may have more open dates.

Unless you are planning a destination wedding to a tropical location, which is an ideal time to do so, many of the places so sought after during the height of the wedding season (late sprint, summer and early fall) open up with more choices. You may  not have to plan two years out after all or take the dreaded Friday evening slot after all!

Holiday decor already in place may save your some costs.

Most churches and many event facilities decorate for the holidays to host a variety of events, at their own cost. From holiday flower displays, oversized wreaths, lit Christmas trees and hanging garland, you may find the need to just plan table centerpieces and a few other touches, saving you on your flower and decorating budget.
If you are planning a holiday-timed wedding a year from now, you can enjoy the benefits of the holiday without all the holiday-themed fuss, particularly if you or your spouse don't observe Christmas yourselves, or you expect guests who do not share the tradition either. Instead, think winter wedding–they are a wonderful starting point for a theme that captures the romance and drama of the season without mistletoe and elves.
Find your perfect winter-themed wedding invitations at www.LookLoveSend.com, and remember especially to send save the date cards to everyone on the list so they can plan accordingly during this busy season. If your wedding date will be in 2012, join the Wedding Invitation Suite sweepstakes for the chance to win a complete wedding invitation suite valued up to $1500.