Children have birthdays all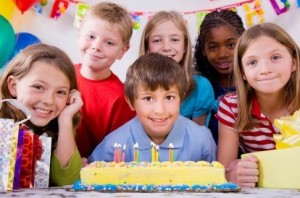 through the year, including the winter months when there is possibly snow on the ground. Parents can still give their children a great birthday party even when it is too chilly to let the kids outside to run in the yard.
One of the easiest things to do for a kid's birthday party in the winter is to have the party at an indoor activity center. This can include a bowling alley, laser tag facility, or other location that offers arcade games and prizes. Bowling alleys are great for smaller children because of the enclosed space. There are packages that parents can purchase for different size parties. Parents can also send out birthday party invitations to their child's friends inviting them to the party. Laser tag is excellent for teenagers who want to have fun with their friends for their birthday, but want to be away from their parents. The parents can sit and talk with each other while the kids run and play for hours at a time.
If you don't mind having children at your home, a birthday party at your house is still a popular idea. Send out party invitations a few weeks in advance and let everyone know when the party is and what the child is interested in. decorate the house in the theme that the child likes. Have cake, chips, and drinks for the guests as well as a few games for the children to play. If you would like to take the party a step further, invite a few of the child's friends to spend the night. You can also make the birthday a sleepover by making kids birthday party invitations that ask a few close friends to spend the night and go to a movie. Take the children out to get pizza and then head to see a favorite movie that they want to see. Then head back to your house and set up your living room for a night of fun.
Other ideas for birthday parties include going to arcades and holding parties at church fellowship halls. Skating rinks are good for larger groups so that there is enough room for everyone to spread out. If you attend a church, ask if you can use the fellowship hall for a few hours. Decorate the hall and invite friends and family to the birthday party. You will need to clean up and make sure everything is back in order when you are done. There are many ideas for winter birthdays if you use your imagination.