Are you getting married and need to coordinate the dress selection and ordering process for your bridesmaids?
Are your bridesmaids as busy as you, or maybe even living far away?
If you answered 'Yes' to both questions, we recommend you checkout the Weddington Way website  to eliminate endless appointments, facilitate selection and coordinate the ordering process.  Here's how it works in a nutshell.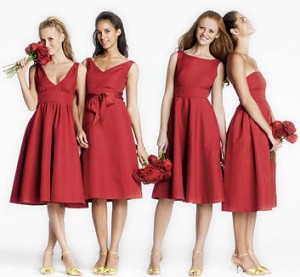 Bride signs up on the site and starts creating a page of bridesmaid dresses she likes.  The site features hundreds of designs searchable by style, fabric, length, price range or other criteria.
Bride adds her bridesmaids to the site and they receive an email invitation fromWeddington Wayto browse her selected dresses.
Bridesmaids and bride can all view the dress selections, compare them side by side and rank them by preference.
After the final selection has been made, dresses may be ordered on the site and the status of each order will be tracked online.
Weddington Way offers comprehensive sizing charts, some of which are customized by dress designer.  Many dresses are available in up to 20 dress colors and the broadest range of size options.
Weddington Way is a godsend for any bridesmaid who has dealt with numerous dress shop visits, coordinating with several girls, and sometimes facing a limited inventory selection.  The site is free to join, easy to use, and offers an efficient yet fun virtual environment to "shop" for dresses with the girls.
Can you suggest any other websites that have made your wedding planning process easier or more enjoyable?  If so, please add a comment, we'd love to see your suggestions.
For easy wedding invitation selection, ordering and a satisfaction guarantee, visit the broad selection of wedding invitation designs available at LookLoveSend.com.  Order quantities over 50 ship for free!