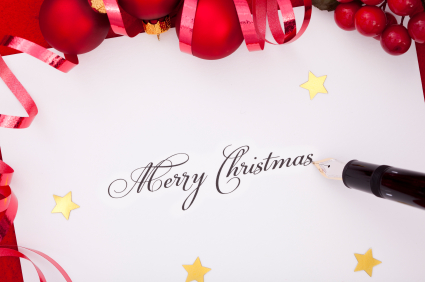 There are as many different kinds of Christmas card messages out there as there are Christmas card designs. Sometimes you can choose your holiday card based simply on how visually appealing it is to you, or, how well it showcases a favorite family photo.
Other times, you may want to focus more on your message. Does it convey a sincere sentiment you want to share about the holidays? In that case, you'll want to consider your message as much as the card design or photo. After all, you only have to do this once a year. It may be the only message some of your family, friends and acquaintances may get from you for the year!
Types of Messages
Consider what type of message you feel best about sending. You could easily have a few different versions for different people on your list, depending on whether they are family, old friends, new friends, colleagues or acquaintances. A great way to handle different messages is by ordering Christmas card designs that allow you to customize:
General

You make a general statement about the season with no specific mention of Christmas. Write your own, or use a message from a sample card, or copy a message you've seen from a past card that you liked.

Religious

It's more than okay to acknowledge the birth of Jesus if that's what is most important to you. Just keep in mind your audience. In other words, if this is what the holiday signifies to you, say so in a personal way, knowing that the whole world may not share your understanding.

Funny

Take care not to offend with inappropriate humor that makes fun of people or anything religious.

Personalized

Write your own message using words that have meaning for you. Or, lean on an inspiring quote. Add a brief inquiry about about the person to whom you're sending the card. Signing your name is another nice personal touch.

Customize with a Photo

Use a photo of yourself, family or someplace related to you. Use it along with any one of the kinds of messages listed above. Insert the photo with the card, or better yet, upload it into a customizable card design, such as those available on www.LookLoveSend.com.

Letter

Writing a Christmas letter to your entire Christmas card list can be daunting, but it's a tradition many people love to take on. Follow our tips for Christmas letter writing for a brief yet informative letter updating people on family news.
To find a wide selection of styles to accommodate a range of Christmas card messages, including personalization and custom photos, check out the holiday collection now available at www.looklovesend.com. Cards come in your choice of heavy weight, high-quality, glossy or matte papers with coordinating envelopes that can be pre-addressed to save you time.