Can you recall the wedding favor you took home from the last 3 weddings you attended? I have to admit that I can't. Tradition plays a huge role in many wedding ceremonies and reception celebrations, and similarly, photo frames, candles and boxed Jordan almonds are highly traditional and appropriate favor choices. But in the spirit of finding something new, I decided to checkout some less traditional but fully functional and fun wedding favor choices. Here are some favors in various wedding style categories that you would likely not forget.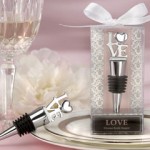 Romantic: The love-themed chrome bottle stopper is in the $3-$4 per unit range** packaged in a clear plastic box with elegant ribbon accents. This elegant keepsake is something that your guests will keep in a kitchen drawer and use on special occasions, hopefully with fond memories of your wedding day.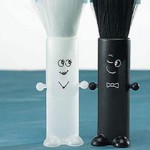 Modern / Fun-loving: The "Swept off our Feet" keyboard dusters are sure to bring a chuckle to your wedding guests. At $3.75 per unit, these cute 4″ dusters have retractable "hair" and are available in sets of 12 brides or 12 grooms. Additional personalization cards are available for an additional charge. Who wouldn't love to have one of these sitting near their computer station? A perfect marriage of function and fun!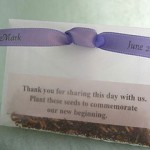 Rustic: Flower seed packets are a wonderfully simple and modern choice, particularly for an outdoor wedding venue. This favor could be easily and economically made using basic supplies and embellishments from a garden center and craft store. Many sites offer flower seed packets, such as this one in the $1.90 range which does require assembly but includes ribbon in a choice of 22 colors imprinted with the bride and groom's names and wedding date (or other text as desired).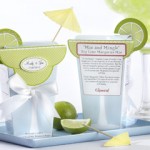 Beach / Casual: The key-lime "Mix & Mingle" margarita mix is another favor that requires some package assembly but results in a very beautifully presented gift in the $2-$3 per unit range. Available in other flavors, this gift is the perfect giveaway for a beach style wedding – especially if margaritas are on the menu for your festivities!
** All referenced products and prices are from http://www.myweddingfavors.com. Another great site dedicated towedding favors is http://www.projectweddingfavors.com/.
Just as your wedding invitations and wedding cake reflect the feel of your nuptials, match your wedding favors to the style of your special day. And if you have a particular style in mind, checkout our selection of unique wedding invitations available at LookLoveSend.com.