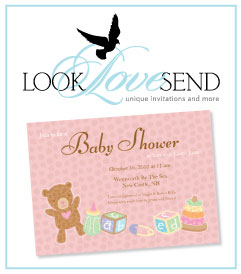 Finding the perfect baby shower invitations to make is easy when you log on to LookLoveSend. Making the invitations lets you give them a personal touch that can't be obtained with pre-printed cards. And personalizing your invitations at LookLoveSend is simple to do with our large selection of templates, color schemes, quality papers, and step-by-step instructions. We literally lead you through the process of creating your own baby shower invitations and you get to see the finished product before placing your order. It does not get any better—or easier—than that.
You Have Many Baby Shower Invitations To Make, Get It Done Here!
When you come to us for baby shower invitations to make you get our guarantee for your 100% satisfaction. We know that you want quality as well as quick service, that is why we are proud to offer you the best paper and inks available for your invitations and next day order shipping. At LookLoveSend we also know we want it to be simple for you to select your template, choose a color combination, personalize the text, and add a digital photo to complete your one-of-a-kind design. We took it all into consideration in creating a website that encourages creativity and lets you be the artist and make baby shower invitations with ease.
That is the secret to our success: we provide you with the tools and the products and let you add in your vision for the perfect invitation to design an inspired masterpiece. Browse our site for the different types of baby shower invitations to make that we offer. Go through the steps to put together one or two from your favorite templates. You might be surprised at how easy and really fun it is. Show the guests of honor how much they mean by putting together a unique invitation that is more than just a request—your invitation will be a keepsake.