10:51 pm Posted by Kristy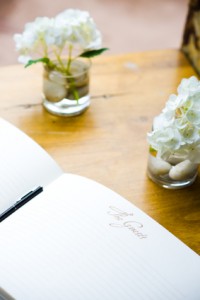 Do you make a beeline for the guestbook at weddings? Did you ever read your own wedding guest book? If given a do-over, I would have a guestbook that goes beyond blank, lined pages that stare back at my guests, challenging them to be interesting and original. Many of us just can't come up witty on the spot. We end up just signing our names in the same spirit as "I was here" only it's on nice paper instead of the bathroom wall. Harsh, I know.
So after some easy searching online, here are a few ideas you could use at your own wedding to improve upon the traditional guestbook concept. Each of these ideas gets guests involved and results in something more interesting or useful:
Thumbprint Art
We've blogged about a Thumbprint Tree previously, but we've since seen a variety of other thumbprint art for guests.  One popular use of thumbprints is as balloons–one version lifts that house from the movie Up, and another version lifts the "Just Married" car. A second and more involved idea is for guests to turn their thumbprint into a self-portrait by penning a few details–glasses, a mustache, shoes or a handbag.
Postcards
Gather up as many local postcards as you can for guests to write a brief note on and sign.  Then have someone mail them to you throughout your first year of marriage. To help manage the expense and effort of this, stamp your postcards and divide them among your bridal party and close family members. It's a great way to extend your enjoyment of your special day, especially if the location was particularly beautiful.
Birthday Calendar
Put out a blank calendar for guests to sign either on their birthday or, alternatively, for couples, their wedding anniversary. While you might not send a card to every guest, won't it be handy to have when you need to remember special days of your new in-laws? This is also a thoughtful gesture that tells your guests you will think of them on their special day!
If you also want a unique wedding invitation, shop the collection of complete wedding invitation suites at www.looklovesend.com. Choose a wedding invitation design from hundreds of styles, personalize your unique wedding invitation with a photo, text and additional options. Enjoy free shipping when you order 50 or more. You can also enter the monthly wedding sweepstakes for a chance to win $500 towards your wedding stationery.