Summertime brings forth the birthday party invitations to pool parties, pirate beach parties, rollerskating parties, and other kinds of action-packed, warm weather themes. It's best to keep these parties short in duration before kids tire and become prone to injury, tears and whining. Another approach may be to host a low-key summertime party.
We've taken a fresh look at some classic kids summertime birthday party ideas that are lower in intensity and less physical. We like these for their fit with the relaxed, laid back atmosphere that kids enjoy with warm weather.
New Summer Themes for Your Birthday Party Invitations
The Almost Camp-out
Imitating the similarly named 'Almost Sleepover,' this works great for 6-9 year olds who just aren't ready to sleep away from home–never mind outside! The best features of the Almost Camp-out resemble the real thing. The important difference is that kids don't actually spend the night in the tent, but go home to sleep. Have all the fun without fears and tears from snapping branches and animal howls…
Whittle sticks
Face paint GI-Joe/Navy Seal style
Grill hotdogs & roast marshmallows
Pitch tents
Take kids snipe-hunting (night-time hike for a fictitious creature)
You decide which classic campout-inspired activities your age group would enjoy!
Drive-in Movie
This is not literally a "drive-in" (unless you're really ambitious/creative and make cardboard box cars!) It's more about bringing a favorite indoor past-time outside.
Go BIG: Rent an outdoor projector, inflatable screen and popcorn machine from a local or national source like www.Funflicks.com.
Be THRIFTY: Borrow the projector, fasten a bed sheet between two trees or poles, make your own popcorn and spread out blankets.
Include fun details like rolling out a red carpet to direct guests to your outdoor cinema, make your own movie ticket stubs, and post a sign with the name of your feature film. You'll need to be able to count on zero rain and minimal wind, but this party works just as well indoors on a wall or ceiling.
Carnival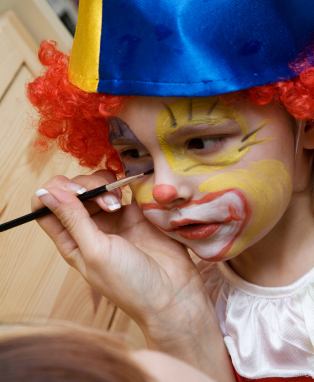 A classic kid favorite, this party theme will require more party planning and legwork to make sure you have enough games and prizes to keep things moving along. The classic games are simple:
Beanbag and ring toss
Face painting
Tattoo parlor
Fortune telling
Make plenty of award tickets for carnival players to cash in for prizes (candy, rubber balls, whistles, etc.) You'll also need some helping hands to run your games and booths. Neighborhood teens who like kids and are willing to volunteer are ideal, but you could sweeten the deal for them with free ice cream or movie passes too.
Find your fun, fresh birthday party invitations from the constantly growing collection at www.LookLoveSend.com. You'll find a wide variety of styles and themes to create birthday invitations that can be personalized the way you want. Our own in-house printing on premium quality papers will make sure your invitations print flawlessly!