Among the many wedding day events and activities to plan, the bridal brunch remains a time-honored centerpiece. Organized either by the Maid of Honor or friends of the Mother of the Bride, the intimate brunch serves a nervous bride and her frenzied mother in 3 important ways: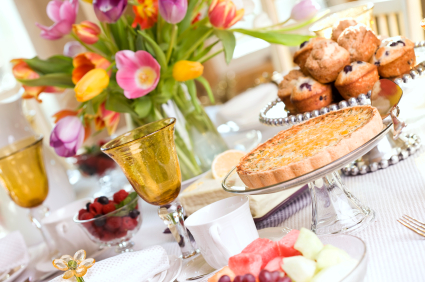 Creates order to the day. The scheduled activity and social distraction help smooth the bride's nerves and those of her mom. The brunch gives the open space before salon appointments and photography some structure, and provides  nourishment during a day when thinking about eating may be a challenge!
Keeps bridesmaids on time. Getting the entire bridal party into a single location at a specific time is no easy feat, especially if you have a bridesmaids coming from out-of-town locations. A brunch can help ensure everyone will be on time for their salon appointments. It also helps coordinate necessary transportation among out-of-town bridesmaids.
Provides a neutral setting for the bride to thank her bridesmaids. In addition to giving her bridesmaids their gifts during the brunch, the bride may also want to share her individual relationship with each bridesmaid with the larger group. One great way to do this is with a slide show or a video montage. Set to music, it is a fun for all to see well-chosen photos of the bride and each of her bridesmaids from childhood, school years, college, or even their own weddings that the bride participated in.
Consisting mostly of just the bride and her bridal party, a bridal brunch can be held at a restaurant, but ideally is done in the comfort of someone's private home. One good reason for a home-based brunch is it's likely the group will be without make-up prior to their appointments. Add in late-night arrivals from out-of-towners, the rehearsal dinner, post-rehearsal parties, and bleary-eyed bridesmaids are likely to appreciate the privacy of someone's home over a public setting!
You'll find a gorgeous selection of wedding invitations online at www.LookLoveSend.com to use a a template for your bridal brunch. Coordinate the design with the rest of the wedding invitation suite, or choose a wedding invitation design that stands on it's own. Either way, you'll find a wide selection of styles that you can quickly and easily customize with your brunch information, including personalization with a photo.