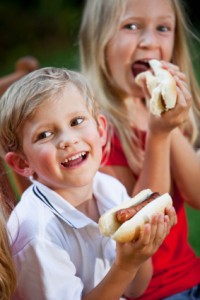 While we're on the subject of photography, let's break for a moment from our favorite subject (weddings) to our other favorite subject–kids–ours and yours. To take advantage of summer's bevy of photo ops, have your camera at the ready. With the potential for getting some great shots this summer that will become favorites worthy of a frame or this year's photo Christmas cards, make it count when you click and snap that camera. In a pinch, smart phones can get the job done, as long as you upload the largest file size possible to ensure quality.
Don't be shy…ZOOM in!
Chances are your favorite picture will end up being a close-up of faces. No matter how good or bad your zoom lens, just step in to get close to your kids. This tactic also ensures no one will even notice what they're wearing, so don't sweat the whole outfit thing. Leave the seasonal surroundings for when you create Christmas cards online later on, and your summer shots will make terrific candidates for family photo Christmas cards.
Flash outside, natural light inside.
You can use the flash outside to reduce shadows on faces. In fact, the pros are more apt to use a flash outdoors than inside, where they will work with natural light whenever possible. Override your auto setting and turn the flash on next time you are outdoors and see what happens.
Be click happy.
Live the moment rather than staging one. Let your camera run and try not to keep checking your LCD display when something good is going on. Remember that today's digital cameras won't run out of film! The most you'll have to do is DELETE what you don't want to keep…later.
Get shorty.
Crouch, kneel, lie. Do whatever you need to do in order to get eye level and avoid the through-the-peephole distortion that happens when shooting from above. Plus, kids will respond more naturally, just as they do when an adult gets down to their level to speak with them.
Create Photo Christmas Cards from Summertime Memories
With so many original holiday card designs to choose from at www.LookLoveSend.com, you'll find plenty of options to turn your summertime memories into fabulous photo Christmas cards that family and friends will treasure. All of our personalized holiday cards print on premium quality paper, whether you choose a smooth matte or gloss finish.. Print on the backside of a flat-type card, or upgrade to a fold-over card for  including a letter or additional photos. We'll make it easy to shop, personalize and order your family photo Christmas cards with us!