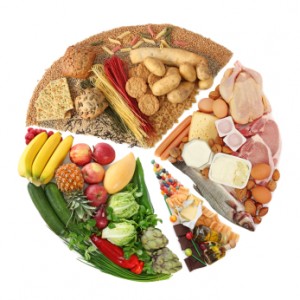 We've all had the usual baby shower fare, from finger sandwiches to cupcakes (baby shower version are called petit-fors). They typically pack a lot of sugar in addition to their predictability. So next time you receive a baby shower invite or plan to host one, think about bringing a dish packed with nutritious pregnancy power foods.
A recent post on Parents.com reveals some of the best power nutrients for pregnant moms and their growing babies. We've reviewed these ingredients and come up with some suggestions for baby shower menu items, along with the specific nutrients they provide. In general, think about recipes that contain combinations of pregnancy superfoods, such as: Berries, Broccoli, Beans, Bananas, Cheese, Eggs, Lean Meats, Nuts, Tomatoes and more.
Pregnancy Power Baby Shower MENU
| | | |
| --- | --- | --- |
| MENU ITEM | KEY INGREDIENTS | POWER NUTRIENTS |
| Blueberry Walnut Spinach Salad OR Broccoli Slaw | Leafy greens, olive oil, blueberries, walnuts | Antioxidants Folate (B vitamin) Vitamin C omega-3s Calcium |
| Trail Mix OR Energy Bars | Nuts (almonds), dried fruits (cranberries, cherries, apricots, etc) | Omega-3s Protein |
| Banana Orange Smoothies | Yogurt, Bananas, Oranges or other berries | Probiotics Potassium Vitamin C |
| Mozzarella Tomato Salad | Fresh mozzarella cheese, sliced tomatoes, fresh basic, olive oil & balsamic | Calcium Lycopene Omega-3s |
| Lean Meat Skewers with Tomato-based dipping sauce | Lean meat such as flank steak or sirloin | Iron and Vitamin C |
For easy, online recipes that cater to pregnant moms using healthy ingredients, try the recipe finder tools on www. fitpregnancy.com or www.babycenter.com for specific recipe ideas from pregnancy experts.
For unique baby shower invitations to host your next shower, visit www.looklovesend.com for a wide variety of design styles and color palates. Join the email list and receive 20% off your first order!