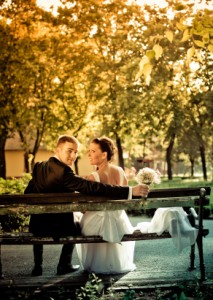 I love fall, and so do many brides. According to theknot.com, October is the 3rd most popular month for weddings!
No other seasonal transition is as refreshing or as noticeable, depending where you live. For the northern half, winter comes fast and spring comes too slow (or not at all!). In the south, fall can take it's time, but eventually brings some of the best weather of the year.
To varying degrees around the country, crisp mornings, color changes, and the noticeable warmth of the afternoon sun make fall a magical time for weddings. If you are already planning your fall wedding for next year, take cues from what the coming weeks will bring, paying close attention to how colors, flowers and foliage can be used in bouquets, cake displays and decor.
We've browsed some of the fall floral displays from top wedding sites, such as WeddingWire.com, to find out how to make the most out of fall for a wedding:
Foliage
Experts turn not just to flowers, but to the leaves and branches and other non-flowering plants that evoke the season. When used as accents and filler, many of these can turn classic wedding flowers such as roses and lilies into extraordinary seasonal displays:
Twigs and vines
Ferns
Acorns and pine cones
Berries
Crab apples and artichokes
Oak and maple leaves
Rosemary and eucalyptus
Feathers and cattails
Color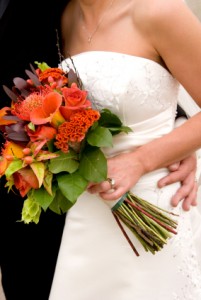 The most obvious way to capture the essence of fall is through the season's extraordinary colors. There are many ways to do this, including pairing non-traditional colors typically associated with other seasons with warmer hues, as discussed previously in our Autumn Colors blog. Other strategies include using favorite flowers available in fall color tones, such as:
Lilies
Calla lilies (in sunset-color hues)
Roses (burgundies, terracottas, "circus roses")
Peonies (mauves, off-whites)
Orchids (cymbidium)
Texture
The pairing of rustic qualities with civilized luxury make fall's appeal almost magical. Experts mix elements such as bark and feathers with satin and lace to create a unique, unstudied yet elegant atmosphere. The best examples of this include scattering red and orange rose petals down an aisle or even a single gorgeous pink rose set into a nest of oak leaves. The contrast between warmth and cool, element and elegance, field and garden create the excitement that defines fall.
To find fall's magical balance of contrasts in your wedding invitations, browse the variety of styles and color palates available at LookLoveSend.com. If your fall wedding is set for 2012, enter LookLoveSend's Wedding Invitation Sweepstakes to win your choice of wedding invitation suite valued up to $1,500.