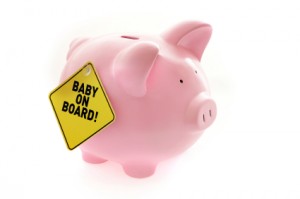 Planning for baby isn't just about registering for your baby shower. Financial planning should also play a central role in planning. After all, bringing a new member on board is going to mean an expansion in your expenditures. Find out how you can make it work.
Here's a handy checklist for 6 major financial considerations for your baby planning:
Can I afford to stay home? This is one of the most basic questions parents ask. Often the answer is clearly yes or no. But if it's a question for you and your partner, Parents.com's StayAtHomeCalculator walks you through basic calculations to hang some numbers on.
Does my employer have Maternity Leave? Especially if you plan to continue working, find out how your pay may be reduced and for what period of time. Companies with fewer than 50 employees are not beholden to the Family Medical Leave Act, which really only protects the security of your job, not your income. So your employer's Short Term Disability plan may be a secondary option.
Do I have the necessary insurance coverage? Whether you purchase your own private plans or go through your employer, or some combination, you will need to make sure you have enough coverage for health, life and disability. Add baby as a dependent to be covered under your health care plan. Don't forget to increase your life insurance benefit amount, and make sure you have some kind of long-term disability coverage in case of an accident, illness or injury that prevents you from working.
What childcare options are available and what will they cost? Budget for child care expenses if you will be returning to work. Find out if your employer offers a Dependent Care Spending Account, which allows you to set aside a portion of your pay pre-tax to cover eligible childcare expenses. Quality childcare costs vary greatly from region to region. Hiring a nanny typically costs more than a licensed childcare facility. Private in-home care, if available, is another option.
Does my will specify exactly what I want for my child? Set up a will if you don't already have one. Also consider executing a living will in case you or your partner become incapacitated and unable to make important decisions. Estate laws vary widely from state to state, so specify exactly what you want to happen to your financial and other assets. Don't assume your child will be the primary beneficiary–specify who you want to have fiduciary responsibility. That person could be different than the person with whom you want your child to live.
How can I save for college? Open a 529 college savings plan. Nearly all states now offer some tax benefits to their state residents who contribute to the state plan. But there can be income limits to those benefits, and if the plan fees and underlying investments in another state's plan are more appealing, don't hesitate to consider opening a 529 College Savings Plan elsewhere.
If you follow up on each of these items, you'll be well prepared. Now get on with the fun stuff…register for those baby items and start browsing baby birth announcements. LookLoveSend.com has a fresh, exciting collection of adorable birth announcements with coordinating thank you notes. Join the email list and receive 20% off your first order.