School is getting back in session. Those of us with school-aged kids are re-adjusting to set bedtimes, homework supervision, and healthier eating patterns. From home packed school lunches, after-school snacks, to class parties, we struggle to creatively re-introduce healthy foods back into our kids' diets.
It can be a challenge to get kids to eat healthy after splurging at ice cream stands, poolside hotdogs and hamburgers, and fried seafood. But more options exist today than ever before to transform healthy food into fun and pretty. Here's a few favorite tricks, plus some great recipe ideas:
Pirate Platters My sis gets credit for the name. It's nothing more than turning big vitamins into small bites. Why is a turkey and cheese so much more appealing when it's rolled up and cut up into bite-sized pieces and skewered with toothpicks? I don't know, but it's even more fun when everyone eats off the same platter, like a bunch of pirates. When she breaks out the giant platter arranged with bite-sized fruits, veggies, and whole grains stabbed with toothpicks, the platter gets licked pretty clean. This one is a great option for after-school playdates and birthday parties.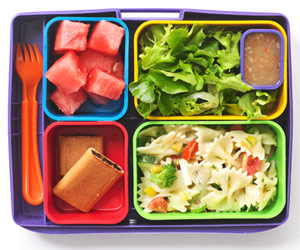 Laptop Lunch Trays (laptoplunches.com) My kids like the allure of buying the school lunch, I just don't care for it's nutritional value (or lack thereof). So this new product comes out mimicking the compartments of a school lunch tray in a colorful and portable fashion. Called Laptop Lunches, Parents.com came up with easy, healthy assortments to fill them that I plan to copy when school begins. Stylish laptop lunch containers are available for adults, too!
Reinvent Classic Sandwiches It seems as though all the recipe sites and family magazines are reinventing classic sandwiches. They either upgrade the ingredients or go for creative presentation. Here's a few examples:
| | | |
| --- | --- | --- |
| CLASSIC SANDWICH | REINVENTED | PREDICTION |
| PB&J | Almond Butter & Dried Cranberries | Not sure the kids would do the cranberries, but sugarfree jam maybe. |
| Tunafish | Replace mayo with Greek yogurt and cut into fish shape. Add sliced tomato. | The fun fish shape alone would get mine to take a bite! |
| Ham & Cheese | OPTION 1:Spread bread with Laughing Cow Light Creamy Swiss.OPTION 2: Drop the bread. Roll them up together and stick a toothpick in it. | Alternating both options creates two entirely different lunches! |
These are a tiny fraction of ideas to get kids back to eating healthy. But school shouldn't be the only reason to keep kids on track. Don't let a pending birthday party invitation limit you to pizza and cake; try new ideas to present healthy food creatively, or upgrade the nutritional value of classic ingredients. Please share with us what your kids' foodie favorites are.
If you are looking for fun, fresh birthday party invitations to go with your fun, fresh party menu, check out the collection at LookLoveSend.com. Our invitations are printed on a high quality paper to go with your high quality ingredients. Join our email list and receive 20% off your first order with us.