If you've received a fancy birthday party invitation and want to take an equally fancy gift; how about the hot new Mary-Kate and Ashley Olsen alligator backpack? It seems that the hold-everything carryall of our youth is making an elegant and modern comeback. Issue is this backpack has a $39,000 price tag.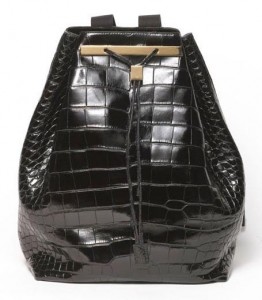 Yes, the unbelievable price tag of this designer bag ranges from $4,700 to $39,000 depending on size. But even more unbelievable (yet true) is the fact that this backpack is flying off shelves and Barneys is having trouble keeping even the largest, most expensive version in stock (two were supposedly pre-ordered before the collection even went on sale!)
The buzz about this backpack is everywhere. Paparazzi shots of celebrities carrying the bag. Sound bites from the designers about how this was "the first thing that sold off the shelf" from their fall handbag collection launch. Even the Barneys' creative ambassador-at-large, Simon Doonan, is jumping on the backpack bandwagon by stating "it's never been more complicated to be a girl than it is now. You have to look fabulous and be a lifestyle brand and have a drink and be Twittering at the same time so you need hands free".
Every few years there seems to be one item that gets all the buzz and whose demand far exceeds supply. This backpack is that item. Luckily there's no shortage of designer bag options at far lesser price points. And if you are hosting rather than attending that fancy birthday party, checkout the growing selection of beautiful designer birthday party invitations available at LookLoveSend.com.