The name that you put on your baby's birth announcement tells more about you than your baby. For some, baby's name has been determined before conception, while others still deliberate hours or days after birth. We've already highlighted some baby naming don'ts, but here is a view of what your chosen baby name tells about your personality. [source: Linda DiProperzio, Parents.com]. Do you agree?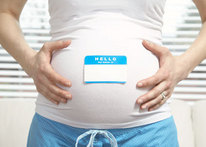 If your child has an unusual name, you are either a creative person (like actors and musicians) or you crave attention as folks will undoubtedly ask its origin. Unusual celebrity baby names: Apple (Gwyneth Paltrow), Pilot Inspektor (Jason Lee), Kal-El (Nicolas Cage).
If your child has an old-fashioned name, you have a conservative-leaning personality. These throwback names distinguish themselves as different but they don't sound strange. Conservative celebrity baby names: Agnes (Jennifer Connelly), Tabitha (Sarah Jessica Parker).
If your child's name has a creative spelling, you like to be different. We've all seen names with extra or misplaced letters, but a note of caution is not to make the spelling too far out – Alison vs. Allison is one thing, but Allysynn may grow tired of correcting the spelling of her name over the years. Celebrity baby names with unusual spelling: Ryder (Kate Hudson), Rocko (Johnny Knoxville).
If you select a family name, you are sentimental. Another popular option is for people to use family surnames as first or middle names which is a great way to honor a whole group of family members instead of a single person. Celebrity family baby names: Vivienne Marcheline (Brad Pitt and Angelina Jolie's daughter's middle name honors her maternal grandmother).
If your child is named after someone in pop culture, you are looking for a confidence boost or are paparazzi-obsessed. Celebrity pop culture baby names: Monroe (Mariah Carey), Lennon (Liam Gallagher), Bardot (David Boreanez).
If your child is named after a destination, you are adventurous and wanting to send a message that you are worldly travelers. Celebrity destination baby names: Egypt (Alicia Keys), Memphis (Bono), Brooklyn (Victoria and David Beckham).
If your child has a unisex name, you focus on success. Historically, unisex names were given to girls to ward off potential sexism in the workplace. However; in the technology age, unisex names are reportedly causing some confusion as electronic communication increases but email recipients still want to know if they are dealing with a man or woman. Celebrity unisex baby names: Mason (Kourtney Kardashian's son and Kelsey Grammar's daughter!) Dakota, Riley and Avery are also popular unisex names.
Do you agree with this assessment of what your baby's name tells about you? If you are planning to send your own baby birth announcement soon, see the growing selection of cute and original designs at LookLoveSend.com. Receive free shipping for order quantities greater than 50!