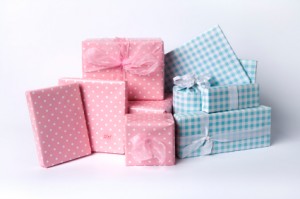 These days, the trend in co-ed baby showers means mixing up traditions in gifts and games to keep guests of mixed company from getting too glassy-eyed over bibs and booties. Whether you are involved planning a couples' baby shower, co-worker shower, or just a regular baby shower where the Dad-to-be plans to appear, we've hunted down some of the best gift and game ideas to engage guests of both genders.
Baby Shower Theme Ideas:
Build baby's library of books and music We've blogged about some great books for baby before, but you can encourage guests to mix in some music too. Dan Zanes, Steve Songs, Laurie Berkner are great kids songwriters and performers to check out.
Safety shower Tools and gadgets are usually a hit for most guys. Think beyond baby gates and cabinet latches to cool fire escape ladders and the latest in hi-tech baby monitors.
Nursery Set-up Get your guest crew together for a work party to move, assemble, hang, fold, etc. Choose pizza or subs instead of pastries and finger-sandwiches for food. Document everyone who pitched in either by getting a signature or handprint to create an art piece for baby's room later.
Home Entertainment Emergency Kit A bit of organization ahead of time might help, but the idea is to supply the expecting parents with a stash of home entertainment items, given their change in lifestyle. With ample opportunity for humor and fun, one way to organize gift giving is by assigning categories ahead of time (such as Movies, Drinks, Games, Recipes, Miscellaneous, etc.)
Baby Shower Games: At traditional showers, games really are just an ice-breaker and a way to engage guests while presents get opened. But in mixed company, put some skin in the game. Be ready with prizes that appeal to both genders, such as gas cards, bottles of wine, massage tools or whatever you can think of.
The Price is Right So fun to get the guys in particular getting to know the real costs of baby items! Choose enough baby items (but not the ones on the registry) and hand-out charts for guests to fill out while gifts are opened. The guest(s) with the most closely correct guesses wins.
Baby Pictionary Break guests into two to four teams, depending on the size of the group. Hand out cards with either a name or the picture of a baby item. Allow teams to draw their clues associated with the item, and allow teammates to ask simple yes/no questions. As with the original pictionary, this is a pretty intense game and a fun centerpoint of the shower. It's best done either before or after the guest(s) of honor have opened their gifts.
Guess Whose Baby Picture Have every guest bring in a baby picture, then quickly but simply assemble them, label with a number for display during the shower. Give every guest a sheet of paper to write down the name of the guest whose baby picture they think it is with the corresponding number. No winners necessary here because no one person knows all the answers!
We'd love to hear about your off-the-beaten path baby shower ideas, especially those that the gentlemen enjoy. If you are looking for fresh, exciting baby shower invitations, check the collections at LookLoveSend.com. Join the email list and receive 20% off your first order.