Is it time to go home yet? We've all been to that summer block party or family gathering where the kids are lurking around the dessert table, wandering around bored, or begging their parents to go home. Not fun. It can be a challenge to amuse kids of different ages or simply to break the ice between them. How many times have you been to a party only to have your child finally make a friend in the last 15 minutes before you are about to leave?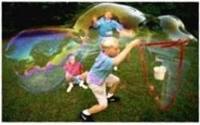 One way to amuse younger party guests and encourage their interaction early on is to setup a simple activity for them to do, such as bubbles. Direct younger party guests to a table setup with items to make bubble mixture, blow bubbles, and create bubble art. It might sound a little hokey, but it's a guarantee that most kids would rather be doing something with other kids instead of standing around listening to adult conversation.
Ask the older kids to measure and mix the bubble mixture. A recommended recipe is below (in researching this, I found that Dawn and Joy dishwashing liquid brands are considered to be the best bubble-makers!)
Bubble recipe: Dawn Ultra or Joy Ultra – 1 part Distilled Water – 15 parts White Karo Syrup – 1/4 part
Offer a variety of objects for kids to make creative bubble-blowing tools. Here are a few suggestions.
bend chenille stems into fun-shaped looks and attach to a stick
tie string into a loop
bend a metal coat hanger into a shape (for older kids)
Provide materials for kids to make bubble art. Add 4 or 5 drops of food coloring to a small cup of bubble solution then blow tinted bubbles onto white paper. When the bubbles pop on the paper they will make cool designs. These make colorful art pieces for kids to take home, or you could setup a contest and judge the coolest / most colorful / most creative designs.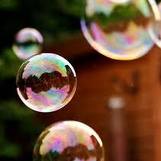 Sure, the bubble table won't hold kids' interest for the duration of your party, but it is simple and cheap to setup and will offer your younger guests a fun activity to do. Best of all, it'll give kids a chance to occupy themselves and mingle…and maybe it'll give you more time to enjoy the party before they start asking "Is it time to go home yet?"
Bubble table or not, if you are planning a summer bash and are looking for party invitations, checkout the growing selection available at LookLoveSend.com. Join us to receive our newsletter and receive 20% off your first order.