Whether you call it a baptism or christening, this special occasion that celebrates the religion in which you choose to raise your child is a memorable first. You want baby to look her best, be comfortable, and wear something extra special.
There are several ways to go, depending on your traditions and style preferences: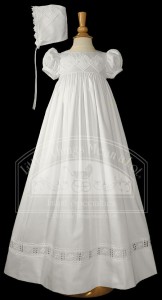 Traditional Christening Gown
Worn by both girls and boys, these are lengthy white gowns with bonnets intended for infants. The sheer cotton gowns that have thinned through the years are often passed down through families. American gowns were typically made from fine, almost sheer cotton, organdy or linen fabric and adorned to varying degrees with lace handwork or embroidery. More formal gowns are heavier satin banded with a sash, matching bonnet. Still other gowns featured decorative smocking or other intricate handwork for hems and necklines.
Today, many parents choose to use a family gown or purchase an updated version of the traditional christening gown, as featured at left from specialty boutiques like Christening Angels. But if purchasing an heirloom gown isn't in the budget and you don't have access to a family gown, or if a traditional gown seems too much of a departure from your lifestyle, there are other ways to go.
Formal attire
Acknowledge the occasion with a less traditional but still formal outfit. Some good examples include one-piece suits for boys with pants and shirts attached, or smocked dresses for girls that aren't necessarily white nor extra long. Local consignment is a great option to search for these outfits, since they are usually worn only one time and parents sell them afterwards.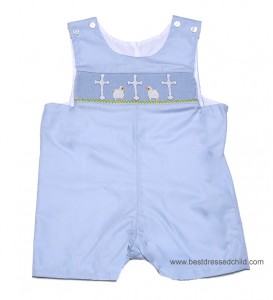 Special outfit
The variety of unique outfits available today at baby boutiques and online makes choosing something special for a baptism easier. The biggest challenge is price, as many of these single outfits can run $100 or more. The trick is to shop for what you like, and if the price is too high to buy new, check online through eBay or at local consignment stores.
Factoring in Baby's Age and Weather
Some of the options we've discussed won't work for an older child being baptized. Parents may not have an infant in arms during a baptism for a variety of reasons. My own first child was running around at age 12 months for her baptism, due to simple geography and schedules. She would have tripped on a long christening gown, but fortunately her small size allowed her to fit into one of my family's gowns, which she wore as a party-length dress. Also consider weather conditions. Laying a simple sweater over any outfit is always an option.
For baptism and christening invitations, or party invitations following the ceremony, visit www.LookLoveSend.com. All their invitations and announcements are printed on the highest quality paper and ordered are turned around the next day if needed. Join the email list and receive 20% off.