Love the tradition of a diamond engagement ring but don't want the cliched band and solitaire? How about a square ring instead? The square engagement ring and wedding band shown above are by New York-based designer Stuart Coffee who specializes in original designs and custom pieces for the jewelry connoisseur. Why is it that there are so many diverse styles of bridal gowns, wedding invitations, bridesmaid dresses and bridal bouquets, but look at 100 engagement rings and 95 of them will follow a traditional selection of bands, solitaires, settings and side stones?
Today, more than 80% of American brides receive a diamond engagement ring. So I decided to look into the history of the diamond engagement ring to see how this came to be. Engagement rings were quite rare until the late 19th century when South African diamond mines were discovered and the jewels became more affordable. But even then, it wasn't until the 1930s that diamonds became truly popular – thanks to a national marketing campaign (which was quite unusual at the time) by the now-famous De Beers diamond company. Hollywood actresses were paid to wear diamond rings, fashion designers were encouraged to discuss the "trend" of diamonds, and a booming market was born.
The marketing campaign was a success. We've all been told that "a diamond is forever", that an engagement ring should cost two months' salary, and ring shoppers soon become experts in the 4 C's of diamond selection (cut, color, clarity, and carat-weight).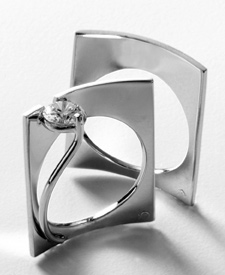 Bottom line: the diamond engagement business is thriving and will remain as one of the most traditional rituals of the American wedding. While the avant garde style of the square-banded ring will not likely become mainstream, we should appreciate this diversity in the otherwise traditional engagement ring marketplace.
If you already have your sparkler and are planning a 2012 wedding, checkout the diverse selection of wedding invitations available at LookLoveSend.com. Enter our Wedding Invitation Suite Sweepstakes to win a complete wedding invitation suite up to a $1500 value