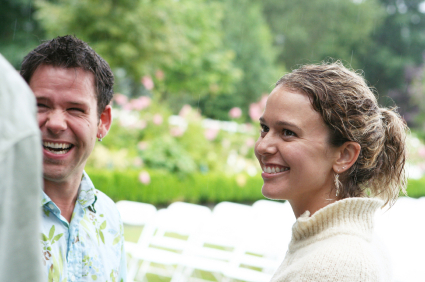 The rehearsal dinner is an event all by itself. For some couples, it's a relaxed time with close-knit friends and family, possibly more enjoyable than the wedding event it precedes. But you will need to think about invitations (and directions!) for attendants, family and other friends you will be inviting.
Traditionally, the rehearsal dinner falls to the groom and his family to host. This means that as the bride, you may not have much say in details like invitations. It may be your mother-in-law-to-be's moment to rule the roost, short-lived as you'd like it to be. But if she's looking for input, you have three choices:
Tell her she can do whatever she'd like.
Discuss color ideas and style preferences.
Send her the link to your favorite wedding stationery!
But today's brides and grooms often decide to share costs evenly between their families, or even handle specific line items themselves (such as invitations, for example). Some couples even foot the cost of the entire rehearsal dinner themselves, especially if parents are unable to do so for any reason.
So it may be up to you to decide whether or not to coordinate your rehearsal dinner invitations with your wedding stationery. If the look and feel of your rehearsal is very different from your wedding, as many are, you may not want to choose invitations from the same collection. There are other ways to tie together the wedding, such as through color, a personalized monogram, or other graphic element.
For ideas about invitation styles and colors, browse the wedding invitation collections available on LookLoveSend.com. Our talented designers have created complete design suites that include every piece of wedding stationery you could need, from Save-the-Date cards to thank you notes. Join our email list and receive 20% off your first order with us!