After Memorial Day the calendar months always seem to pass in a blur; summer vacations give way to back-to-school, Halloween leads to Thanksgiving, and then the countdown for Christmas shopping is in full swing. And even without the added holiday get-togethers and events, the weeks leading up to Christmas can be quite stressful, especially if you are busy with career or family (or both)!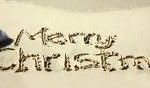 It may seem premature to be thinking about Christmas before the Memorial Day barbeques have even been lit. But if you recall having a stressful December last year, checkout somehints below from a site dedicated to Christmas planning, christmas.organizedhome.com. This site has a "Rudolph Club" which recommends planning for Christmas on the 25th of each month and posts "assignments" to help guide this out-of-season holiday planning. While it takes a lot of discipline to think Christmas cards while you're on the beach in July, any preparations before November will surely make December a little more organized and stress-free. Here are just a few ideas to get started.
If you include a family newsletter in your Christmas card, keep a file on your computer and jot down family events and stories as they happen. It's much easier to remember what happened in the past month than waiting until December to write it all down!
Get a family photo taken early for your photo Christmas card.
Start a gift closet and add items as you see them on sale or if you see the perfect gift for someone before holiday music gets piped through the store loudspeakers. Just don't forget the location of your gift closet!
Begin preparations for any homemade crafts or food items as gifts. Start sewing that quilt or buy those canning jars for your homemade jams now.
Every little bit helps. Pick just one of the ideas above, get it done, and then shift back to your Memorial Day cookout plans. In December you'll be glad you did. Within the upcoming summer months, LookLoveSend will be adding Christmas card designs to its growing collection. Subscribe to our mailing list and receive 20% off your first order.