Party invitations often arrive fast and furious from mid-May until the end of June, as party hosts plan for those great summer weekends in July and August. Whether the summertime event is a child's birthday party, an anniversary party, or a family cookout, a fruit salad is always a great option to easily prepare and bring along.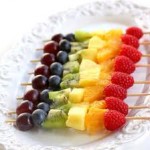 However, not all fruit salads are created equal. Yesterday I hosted a small family gathering after my son's first communion and the fruit salad in my mind ended up as a bowl of blueberries and somewhat tasteless strawberries on the table after cutting into unripe and unusable melons and kiwis. With summer fruit season not yet in full swing in the Northeast, the simple solution would have been buying my fruit at a local farm stand rather than adding it to my cart of other party staples from the grocery store party run.
An extra stop at the farm stand is well worth the time and few extra dollars. As more local farm stands seem to pop up each season, try to find one that is conveniently on your way home from work or near your child's karate or dance studio. A local favorite in my area that truly sets the standard is Verrill Farm. Verrill Farm is far from a simple farm stand with its bakery and deli, catering services, cooking lessons, events (such as its upcoming Asparagus Festival) and strong partnership with local restaurants and specialty food providers. While the focus of all farm stands is locally grown produce, many larger farms also bring in fresh out-of-season fruits from quality suppliers within their network.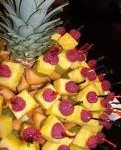 With quality fruit and a little creativity on my cutting board yesterday, I could have truly elevated my sad bowl of berries to something bright and colorful – and something that would be warmly welcomed at any party or picnic this summer. For your summer parties and potlucks, consider buying farm stand fruits for a high quality salad that could be the centerpiece of any dessert table.
Hosting your own summer celebration? LookLoveSend is adding bright new designs each week for summer birthday and anniversary parties, bridal shower and baby shower celebrations.