Multiple-choice question: the diaper cake is:
(a) A hand-crafted tower of baby diapers adorned with ornamental ribbon and baby items.
(b) A highly-functional yet attractive baby shower gift that can be thoughtfully customized for the new baby.
(c) A unique centerpiece for the baby shower table that is sure to impress.
(d) All of the above.
The answer, of course, is (d) all of the above. The diaper cake is a delightful and original gift offered by numerous online sites with a variety of styles and additional customization options. However, if you have a little Martha Stewart and a lot of patience inside, consider making your own diaper cake for a fraction of the cost and the opportunity to create a highly personal and memorable gift.
The materials list for the most basic diaper cake is quite simple:
1 – 2 cartons of disposable diapers depending on size (a 3-tier cake requires approximately 50 newborn size diapers).
A tray, cake stand, or cutout cardboard base
Decorative ribbon and small items such as a pacifier, rattle, brush, booties or teddy bear.
Rubber bands and a cardboard tube for construction.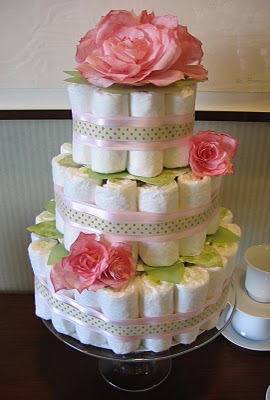 A superb tutorial to create the elaborate pink and green floral diaper cake shown here is featured on the  Homemade by Jill
. With additional floral accents, this sophisticated design is slightly more complex but particularly spectacular when complete.
So consider trying to put together a diaper cake for the next baby shower that you attend. If you run into any construction problems, rest assured that all materials can be nicely arranged in a basket as an alternate gift presentation option!
If you are hosting the baby shower, checkout the growing selection of baby shower invitations on LookLoveSend. Subscribe to our mailing list to receive 20% off your first order with us.