As the saying goes, it's NEVER too early to start thinking about the holiday season. Planning parents everywhere with school-age kids can turn easy crafts done either at home or at school into unique ways to dress up holiday gifts and Christmas card collections.
Some suggestions in a recent post by Parents.com caught our eye. Here are a few of our favorite picks, plus one or two of our own additions:
Dress Up Gift Wrap with…
Button Jewelry We like the idea of stringing felt flowers (or sparkly buttons) into jewelry, but what about turning it into into gift wrap ribbon for tying up packages or adorning Christmas gifts?
Friendship Bracelets These still-popular braided strands of colored string also make terrific ribbons for wrapping or tying on gift tags.
Dress up Gift Jars with…
Lacy Doilies Cut and dyed to cover tissue-paper wrapped votive candle jars on Parent.com, we suggest using them also to dress up other jarred gifts, such as homemade fudge sauce, cookie mix kits, or the jams and pickled fruits featured in our Summer in a Jar blog.
Jolly Java Jackets These are too cute just for coffee cups! Originally designed as heat protector sleeves for to-go coffee on Parents.com, these repurpased knit and cloth fabrics adorned with buttons can dress up any jar, canister or cup.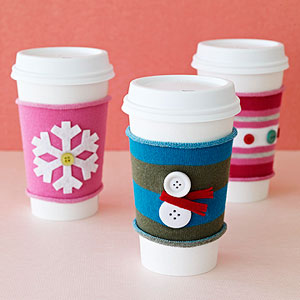 Dress up your Christmas Card Collection with…
Lunch Bag Scrapbook Using a stack of folded-over brown paper lunch sacks bound with ribbon is great way for kids to compile and display special holiday cards. They will enjoy pasting their cards on each page and decorating the pages however they like.
Bottle cap Magnets As long as you still have a magnetic refrigerator (sorry stainless steel), or at least a magnetic bulletin board, you can hang your favorite Christmas cards using these painted and bejeweled bottle caps.
For a look at equally unique and thoughtfully designed Christmas and holiday cards, check out the growing collection available on LookLoveSend.com. For a personalized card, customize your card with a photo. All cards are printed on premium weight card stock. Join the email list and receive 20% off your first order.