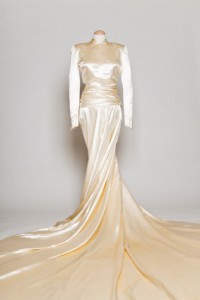 When a bride considers breaking out her mother or grandmother's wedding gown, she should be prepared to think about several things:
Make sure you aren't wearing a family gown to please someone else. What if alterations are needed? How does mom really feel about a pair of scissors touching her dress? The truth is, she may not really know how she will feel, so keep an open mind and talk about it.
Not necessarily. If alterations for fit are likely, especially to expand size (requiring additional matching fabric), know you could be in for some unanticipated costs. If the dress fits, but you want to modernize certain aspects, such as the neckline, train or adornment, check your budget. Redesign and materials can add to your original vision of a budget family heirloom!
Not all preserved gowns are equal. Feel the fabric and check the seams. If the dress is too fragile, consider wearing it only for the ceremony. You can then change into a second wedding gown for the reception. If it won't withstand any wearing, look into having a copy made or use favorite features in a new dress. Finally, incorporate actual pieces of the gown directly into your new dress or one of your accessories, such as a purse or headpiece. This covers the something "Old" you will want to have!
In the end, if you feel very strongly about wearing a family gown despite the hurdles, be persistent! For inspiration, check out this success story on the theBudgetSavvyBride.com. The bride's strong desire to wear her mother's 1980s gown was so mired in doubt from all sides that her mother obtained a backup gown before they even opened the box!
For easy wedding inspiration with less legwork, visit LookLoveSend.com online and browse our wedding invitations. All components in our wedding invitation suites are designed to coordinate with one another. If your wedding is scheduled for 2012, enter our sweepstakes for the chance to win a complete wedding invitation suite valued up to $1500.