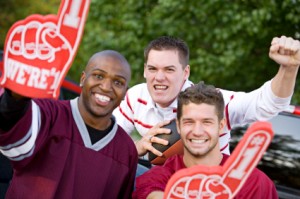 The growing popularity of man gatherings pre-wedding or pre-baby are a great equalizer for men. They are, after all, half of the equation, whether groom or new father. Women have traditionally received most of the attention at bridal showers and baby showers, but most are giving their full-fledged support to these occasions, which tend to be based more on the male bonding than on gifts.
What's the difference between the Man Shower and a Bachelor Party? Are gifts involved? Do you send a bachelor party invitation?
That said, however, men are wising up to the great gifts, explained a Today Show segment a few years ago, noting the new trend of pre-wedding gatherings for men. Men are missing out on the opportunity to stock up on tools and gadgets they will surely be glad to have once they are establishing a home of their own. Simple things to a starter toolbox filled with some basics to grander gifts like a shiny gas grill are good ideas. The big name hardware stores like Lowe's and Home Depot have registries just for this purpose.
These gatherings are not bachelor parties, but rather an excuse for the men involved in the wedding to spend time together and with the groom. Activities range from simply sharing some beers over a sporting event to an organized golf or fishing weekend. It depends on the interests of the groom (maybe a few jam sessions of Guitar Hero are in order.!)
What about the Man Shower for the expecting dad? Is there a different registry?
In the case of the newly dubbed "Dadchelor," or those events organized for the expecting dad, the idea is similar to the "babymoon." It's a time of freedom from the "burdens" that fatherhood may soon impose. Comments to questions about this idea posted on thebump.com gave voice to a majority of expecting moms who fully supported their mate's opportunity for some guy time before baby arrives.
This sentiment may at first appear to infer that fatherhood is some kind of a jail sentence, rather than the joy and blessing most feel it is. But the spirit is intended to recognize that today's dads will indeed make sacrifices of personal time similar to what women have been doing for centuries. Not to mention, one of the most popular ideas for admission to one of these events is to bring a pack of diapers. What expectant mom would be opposed to that?
If you or someone you know is organizing one of these events and would like to formalize it with classy, quality invitations, check out the party invitations available through LookLoveSend.com. Many modern designs appealing to masculine tastes are available, including several bachelor party designs that can easily be adapted to a man shower occasion. Join our email list and receive 20% of your first order!