Many people look to summertime for its unique moments to capture that perfect shot for a photo Christmas card or other holiday cards.
When you have a wedding in the family, there's even more incentive to think ahead. After all, you will have the benefits of a professional photographer at your disposal. Nearly everyone whom you would likely hope to include will be there, and they'll be dressed in their best.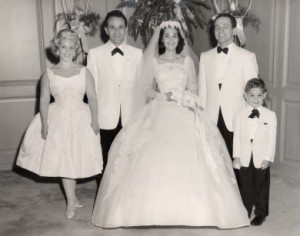 There are several helpful ways to approach this opportunity. Most important is to let your photographer know that you plan to use one of your pictures for a photo Christmas card:
Identify who your "family" is. A good photographer will prompt you to think about this ahead of time. In any case, make sure everyone you want in your Christmas card is by your side when it's time for photos. Mostly this means your immediate, or nuclear family: parents, siblings, children. If your siblings are married, include their spouse.Extended family join only if they would naturally be people you want to include in a Christmas card. You could extend them the same courtesy by encouraging them to gather their nuclear families. What a nice gift to give them a professionally photographed shot of their immediate family!
Don't forget the little ones. Arrange ahead of time to have someone be responsible for getting young children ready for the shoot. This is especially important if young ones are not invited to the wedding. If they take part of the ceremony, but your photo location differs from either the ceremony and reception, prepare directions ahead of time with someone you trust.
Mix up the arrangement for a more intimate shot. Christmas cards tend to allow for smaller sized pictures; these are not the 10 x 8 framed photos that show head-to-toe family lineups very well. A good photographer will know this, but just in case, be ready to arrange people appropriately for closer-in shots. A few arrangements that will satisfy Christmas card photos for both sides include:

Newly married couple front and center;
Bride's parents front and center;
Groom's parents front and center;
Grandparent(s) front and center.
One last consideration would be to look at how your wedding colors look on different Christmas card designs. Browse the growing selections of Christmas cards available on LookLoveSend.com. Many styles will accommodate larger picture sizes, and all cards are printed on the highest quality paper. Join their email list and receive 20% off your first order.