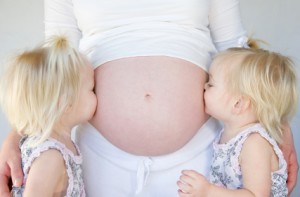 Who would you consider to be a "mature mother"? While hipness and age might play a role, I subscribe to the notion that a woman with two or more children fits this definition.
She has sustained two human lives in her womb, brought them forth through birth, and feeds their minds and bodies on a daily basis. So what exactly could you do for her if she begins to travel down that road a third, fourth, or bless her soul, fifth time and beyond?
Etiquette handbooks tell us a second or third baby shower isn't necessary or appropriate. In my experience, I think this rule gets ignored. Plenty of moms luck out with a friend or family member who chooses to send out baby shower invitations for some of the following reasons:
A known change in gender for the new baby
Mom (and parents) are new to town
An extensive amount of time has passed since the last baby (and she no longer has what she needs)
This is where the idea of a baby shower for the mature mom comes in. She has at least two other children, may have already returned to work (if she ever left), and probably not a lot of extra time to prepare. She could use some updated items, given the rapid pace of change in baby products and safety standards (think cribs and carseats!)
In addition, she may feel past the point of excitement over cute booties or new onesies (if that's possible), and what she really needs is pampering in place of gifts!
Here are some ideas to pull off a perfect baby shower for the mature mom. Borrow some suggestions from the Mother's Day-day inspired gifts posted back in May, and combine them with some of the new products and updated equipment suggested in 10 Modern Gifts for the Traditional Baby Shower:
Gift certificate for a series of manicures and pedicures
Collect money to fund the temporary hiring of a house cleaner or personal trainer for a few months after the baby arrives
Written pledge for lunch or dinner out at her favorite restaurant with her choice of friends or husband–babysitting included!
Spa weekend with friends in place of a shower
Start a lineup of dinner deliveries through the easy-to-use, widely acclaimed, online scheduling service mealtrain.com
Now you've got the perfect blend of baby shower gifts and pampering for a mature mom. She'll appreciate the acknowledgement of her experience and the help with what she really needs! What pampering would you enjoy?
For a look at refreshing, exciting baby shower invitation designs, visit LookLoveSend.com. Delight in the variety of their growing collection of designs, suited to a wide variety of different tastes. Join the email list and receive 20% off your first order.