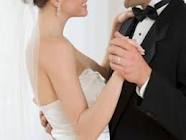 What part of the wedding program of events brings the most worry and nerves? For a majority of married couples the answer is 'the first dance'.   Along with the receiving line and cake cutting ceremony, the first dance is a staple at most wedding receptions.  Guests love to surround the dance floor watching the newlyweds, but the idea being the center of attention while doing something you are reluctant to do can be nerve-wracking for many – regardless of the happy occasion at-hand.
So what are the options for non-dancers to better get through their first dance?
Eliminate the traditional first dance altogether.  As couples are increasingly putting their own spin on their wedding day, there's nothing to say that you have to have that spotlight dance.
Find that absolutely perfect song – one that you both love so much that you can just focus on the melody and lyrics to better enjoy those 3-4 minutes on the dance floor.  Checkout http://www.weddingwire.com/wedding-songs  to lookup fantastically categorized music in easy-to-find lists with links to hear the song, listed lyrics and comments to easily find the best liked songs and opinions.
Take dance classes.  Most ballrooms offer both group and private lessons.  You should expect to pay $25-$80 per hour for a private lesson and $12 to $30 each for a group class, cost varying due to experience, availability and location.  Taking several lessons in the few months before the wedding could greatly reduce those dance floor jitters.
But for all the shy newlyweds who prefer to simply sway their way through their first dance, there's always that one extrovert who wants to make a splash.  Take Brian's recent surprise Justin Bieber wedding dance for his bride Emily – watching his YouTube clip is an amusing way to spend 4 minutes – as 4.6 million people would agree!
For spectacular wedding stationery, shop the fresh collection of designs available at LookLoveSend.com.  Sign up for our January sweepstakes for a chance to win up to $500 of free stationery for your special day!