Presentation can turn a ho-hum gift into eye candy.  Next time you receive a birthday party invitation, consider these fun ways to present your gift and ensure it's the first that the guest of honor reaches to unwrap.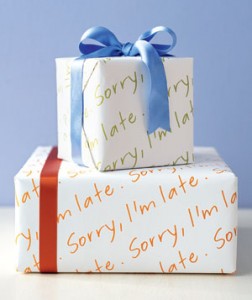 Wrap in paper that isn't conventional wrapping paper – Sunday comics, maps, or wallpaper are original options.  Alternately, print your own wrapping paper on a printer – you can either include a personalized birthday message or use a child's scanned artwork or photos for the ultimate in customized giftwrap.
For long or unusually shaped objects, wrap in a cylindrical shape and tie both ends with bright ribbon or streamers.
Use double-sided tape to attach the head of a fresh flower and silk ribbon to beautifully craft a woman's gift.
Create gift tags by cutting up old cards, punching a single hole and tying with ribbon.
For a young girl's gift, wrap the gift in tissue paper and secure the ends with a pretty ponytail holder or hair ribbons that can be used afterwards.
Buy decorative cardboard boxes for those hard-to-wrap items – these boxes are inexpensive, attractive, and practical for future use.
Wrap a bottle of wine in an attractive dish towel and affix with ribbon or string.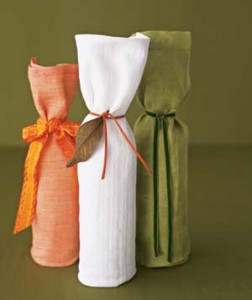 If you're someone who keeps a drawer filled and ready-to-go with wrapping paper and tape, consider adding fun and unusual decorative items as you find them.  Sure, going the bag-and-tissue-paper route is quick and easy – but it's unlikely to let your gift shine as it sits on the gift table among all others.  And if you're hosting instead of attending a birthday party soon, shop the fun and fresh selection of birthday party invitations at LookLoveSend.com.  All cards are printed on premium quality paper with our 100% satisfaction guarantee to you!