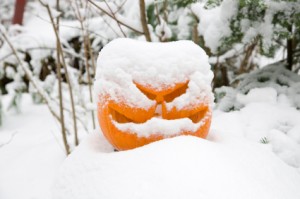 If you live anywhere from Maryland to Maine, your head is spinning right now. You may have pumpkins too frozen to carve, or a trick-or-treating costume that needs some serious thermal under layers. This weekend's nor easter has covered jack-o-lanterns with a heavy layer of snow. Meteorologists are predicting some sun today to melt some of the snow for trick-or-treating tomorrow, but not much can fix the 3 million people with no power!
What to do in your cold dark house for the next few days? Well, grab a frozen Milky Way and a pad and pencil, and take inventory of what you have on hand to get you through the next few days.
Recipes for a Disaster
You can find clever ideas for non-cook recipes using typical pantry ingredients on many websites. The important thing is to check and see what you have to work with! (And in the future, make sure you have these things ready when a potential weather disaster is on the horizon.) For a list of useful pantry foods to have on hand, see Pantry Staples. Here's a start:
Low-sodium canned and dried foods kept in a cool, dry place. Soups, beans, tomatoes, tuna fish, etc.
Low-perishable, shelf-stable ingredients like juice boxes, boxed broths, parmesan cheese, dried fruits, crackers, cereal, etc.
Basic utensils like a can opener and paper ware plates and bowls, plastic ware cutlery (spoons, forks, etc.)
Room temperature-happy fruits and veggies, like apples, pears, bananas, tomatoes, squash, onions, potatoes and peppers will keep longest in a cool, dark location.
Bottled water on hand for drinking, washing and rehydrating foods, and flushing toilets, especially if you are on a well. Fill a bathtub ahead of time. TIP: Drinking water rule is at least a gallon of water per day per person.
If you can grill outdoors, Dinner Packets assembled in heavy duty foil can be a terrific trick, but require some planning and prep before the weather turns bad.
If you've planned a party and party invitations have long been sent, it might be worth making sure you've also got plenty of wine on hand, and a cooler filled with ice. My neighbors pulled off a great Halloween party last night during the thick of the snow, and while power wasn't an issue for them, for other guests who arrived at the party from homes in the dark, it was a welcome respite!
Go ahead and plan your next party for the heart of this year's winter holidays. A blizzard party at Christmastime or a New Year's Party afterwards might be just what people want when the weather turns nasty. For an inspiring selection of holiday party invitations, check www.looklovesend.com. Ground shipping is free when you order 50 more more!