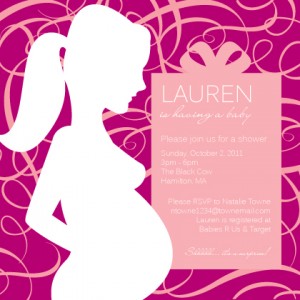 Baby showers are a relatively new tradition, becoming popular with the baby boom that followed World War II. As a relatively newer tradition (when compared with, say, a bride's dowry!), when you receive a baby shower invitation, you probably feel pretty familiar with the playbook of rules. As with many traditions these day, however, people everywhere are changing those rules. We thought we'd look at what's changing when planning a baby shower today.
Who Hosts?
A close friend or neighbor traditionally hosted the baby shower, rather than a close family member, in order to avoid the impression that the expecting mom and her family was looking to cash in on baby shower gifts. Today, however, it is increasingly common and acceptable for a closer relative such as a sister or even mother in law to host the shower. One steadfast rule remains: the guest of honor really still shouldn't host her own shower, but she can have plenty of say on almost all aspects of planning it!
Who receives a baby shower invitation?
As a practical matter, today's mom to be's should provide a guest list to their host and both should discuss any space or budget limitations openly. Close friends, neighbors, and family members from her side as well as the baby's father's family traditionally top the list, but many moms today also invite coworkers. If either you as host or as the guest of honor isn't sure about a guest, think about whether you would ask that person to buy a gift, since that's what's a shower is really all about.
What about the men?
Changing lifestyles has meant that more and more baby showers are bringing male guests into the mix. While it's ultimately up to the guest of honor whether she wants to keep her shower a women-only event, many modern couples decide together to have a different style of baby shower, such as the couples shower. The couples shower trend has formalized the concept of men's presence and certainly can change both the party dynamics as well as the menu and types of gifts a couple can expect. But even if the mom to be isn't officially wanting a couples shower, many want male friends or relatives present. Even more common today than a couples shower is the presence, however brief, of baby's father. Its perfectly acceptable and even a gracious gesture for the expectant dad to make a brief appearance thank everyone for the gifts.
Where to Shop for Modern Baby Shower Invitations?
The Internet is the best new source for shopping the latest designs in baby shower invitations. You will find an extensive selection of styles as well as a range in print quality, so be sure to look for a source like www.looklovesend.com whose original designs are always printed on high quality papers. LookLoveSend has a wide selection of baby shower invitations and corresponding baby thank you notes that reflect more modern styles. Many designs can also be personalized with a photo, and you can always customize your text online. When you order 50 or more, shipping is free.