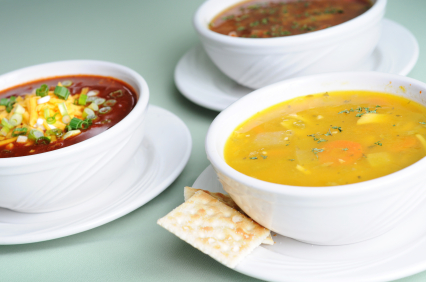 Summer is not quite over, but Labor day has come and gone, and the makings of cooler days lie around the corner. If you are thinking about hosting a party this fall, whether to gather with neighbors, enjoy football season, or restart a club or organization meeting, think about planning a soup party.
Soup is a naturally inviting food whose diversity has wide appeal. But more than that, soup is inexpensive, easy to prepare, and easy to enjoy. Consider these two approaches for party planning:
You Host
If you want to host, choose two or three different kinds of soups to offer, and plenty of soup cups so guests don't fill up on just one. Offer a variety of breads and a salad to top it off. Choose family favorites, or try a theme, such as:
Seasonal Feature fall's harvest favorites, ranging from vegetables like butternut squash, tomatoes and mushrooms. Add in chicken, wild rice or lentils to round things out.
International Style Bring flavors from around the globe into your kitchen witha Chinese hot and sour or egg drop soup, French onion soup or Italian wedding soup.
Go Potluck
Get your party guests involved. People usually like to bring something, so why not invite them to bring either their favorite soup or a favorite recipe?
Recipe Share Include recipe cards along with your party invitations. Guests can jot down a recipe, or collect them by email to print out copies of the collection ahead of time.
Real Time Turn the party into a real time kitchen by having several stocks heated and ready for ingredients, brought by guests. Vegetables, beans, meats and seasonings are all good choices.
To find party invitations for your next party in a style that suits you, visit www.looklovesend.com. Hundreds of invitation designs, available in a wide selection of colors, are printed on the highest quality papers. Join the email list and receive 20% off your first order.