Choosing a pediatrician involves more than a phone call–it's a process. Whether you've landed in a new town or are having a baby, finding a doctor with whom you are both comfortable and confident is a necessity.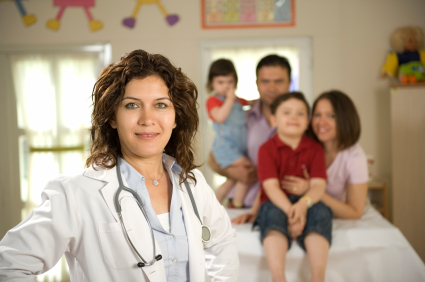 Before your child's next birthday check-up or baby's birth announcements get mailed out, we've gathered a list of questions from experts and bloggers to organize your search.
Where to Start
Insurance. Check your health care provider's website for pediatricians in the area who accept your insurance coverage.
Word of mouth. Ask around…but beware: what's important to you may not even be on someone else's radar.
Logistics. A convenient location and office hours you can make are key. Also, how quickly can you get an appointment, and what hospital is the doctor/practice is affiliated with?
Prenatal Interview
By the third trimester of your pregnancy, consider scheduling a consultation with a prospective pediatrician. First find out:
If there is a fee for the consultation
How much time you'll get and with whom
What questions you want to ask
Who to take with you (e.g., your spouse, partner, family member or friend)
Key Questions to Ask
How are after hours and weekends covered?
How are telephone questions handled? (e.g., how quickly and by whom–a nurse or the doctor?)
Is a Pediatric Nurse Practitioner (PNP) in the office?
What happens during a well visit?
What is their philosophy about key issues such as vaccinations, breastfeeding, circumcision, antibiotic use, etc?
These are just some important questions you can ask. For more in-depth interview ideas, check 10 Questions to Ask a Pediatrician on www.iVillage.com.
Is Your Pediatrician for Keeps?
It takes time to see how things are going to work out. Continue to ask questions and be observant of:
How your child responds to the doctor
How much the doctor seems to enjoy working with children
How receptive the doctor is to questions
How well the doctor listens to your concerns
How patient and helpful is the office staff
If there is anything you don't like or wish was different about your child's doctor or the practice, consider other choices in your area. Sometimes a longer drive pays off for better access or better care. Don't be afraid to try!
When you are ready to move onto something lighter, such as ordering your baby's birth announcements, visit the adorable selection at www.looklovesend.com. Announcements are printed on premium stock paper, and can be personalized with a photo. Join the email list and receive 20% off your first order.