According to The New York Times and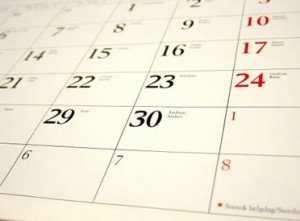 National Jeweler Magazine, December is the most popular month for couples to get engaged. This is probably in anticipation of the holiday season and gift opening when the groom wants to surprise his future bride with an unforgettable presesent. But now that you have the ring on your finger, you have many decisions and plans to make, the first of which is your wedding date.
Length of Engagement
Some couples want to get married immediately after receiving the ring. Other brides may prefer to have a long engagement that lasts a year or more so that they can adequately plan for their wedding. Consider the amount of time you want for wedding planning to help you determine the ideal wedding date.
Season
After you decide whether you want to get married this year or next year, you should decide the season you prefer to get married in. Some factors include the weather, convenience for guests, and local tendencies. June and July are common wedding months, probably due to the summer weather and little chance for rain in most regions. However, you may prefer a winter wedding or a fall wedding if these seasons more align with the colors and decorations you prefer. You may also want to get married during an "off season" so that you can take advantage of discounts on wedding supplies and vendors.
Style Choices
The attire you want to wear may help you decide in which season to get married. Flowy summer dresses are most appropriate for a summer or beach wedding. If you want to wear sleeves, you are probably hoping to get married during a colder season. Short dresses will require warmer weather. Take these factors into consideration when deciding your wedding date. The time of day will also affect what type of attire is appropriate for your wedding, such as an evening black tie event or a less formal daytime event.
Invitations
Once you have determined your wedding date, you should send save the dates. These cards give advance notice to individuals who live far away or will need advance time to schedule a trip to your wedding. You can also begin to order wedding invitations wedding invitations once you know the time and location for your event. Send the wedding invitations out no later than three months before the wedding.