All dinner party planning has several goals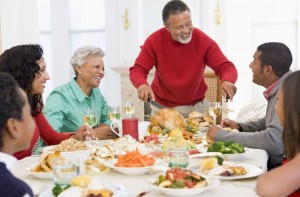 to ensure success. These include making quests feel welcome, comfortable and satisfied with a memorable meal. What better way to accomplish these goals than to serve comfort food that has been tweaked into gourmet status?
A traditional Monday night family meatloaf can be renovated into an entrée sure to please the most discerning meatloaf devotee. Meatloaf filled with a mushroom and sour cream mixture spiced with horseradish and Dijon mustard updates mom's recipe. A turkey meatloaf can be turned into party fair that appeals to the eye as well as the taste buds by adding chopped apricots, flat leaf parsley and carrots to the meat mixture and glazing with apricot preserves. Meatloaves can also take on international flairs for themed menus. A South African inspired meatloaf uses lamb, curry powder, apples, raisins and almonds.
Add mashed potatoes to meatloaf to compliment a dinner party based on comfort foods. Update butter and milk flavored mashed potatoes with some roasted garlic and grated parmesan cheese. Adding chopped chives and sour cream adds color and flavor to an old standby side dish.
A few easy changes to the standard macaroni and cheese recipe can turn this side dish into a main course. Replace American cheese with a mixture of gruyere, mascarpone and Parmesan Reggiano and turn macaroni and cheese into a dish worthy of fine dining ranking. Serve with a salad of tossed field greens and a crusty artisan bread to round out this party menu.
Crusty artisan breads and cheeses such as Fontina, Havarti or gruyere turn grilled cheese sandwiches into the perfect luncheon entrée. Slices of figs or roasted green or red peppers nestled between cheese slices make taste buds sing. Add a cup of roasted tomato and roasted yellow pepper soup topped with a dollop of sour cream and the grilled cheese and tomato soup comfort food combination becomes an instant hit at a baby or wedding shower.
A hearty artisan bread also goes great with a comforting tasty stew. In addition to the carrots, potatoes, celery and onions add mushrooms, leeks and burgundy wine to a favored stew recipe and guests will rave about the culinary skills of the chef. A pork stew flavored with Granny Smith apples, apple brandy and hard apple cider will have guests asking for more.
Recipes abound that turn old fashioned comfort food dishes into gourmet dishes worthy of presentation to honored guests. Party invitations with an updated recipe included will fill guests with anticipation.