We are thrilled to introduce designer, Sarah Trainor and her beautiful designs coming soon to LookLoveSend.com. Sarah will be contributing fantastic birth announcements, party invitations and wedding invitation collections to commemorate your special life occasions.

Sarah was exposed to art at an early age while traveling internationally with her family. This nurtured her deep love of art and design. Sarah attended the Rhode Island School of Design and MassArt, earning a BFA in Illustration and completing a Graphic Design Certification Program. Currently working as a freelance graphic designer, illustrator and website designer, Sarah lends her great design talents to companies in the medical, culinary, academic and financial fields.
Sarah exhibits a spectacular use of color in designs that are striking and modern. Her pieces have a pleasing symmetry and an elegant feel. See below for one of Sarah's fantastic wedding invitation designs, "Wildflowers".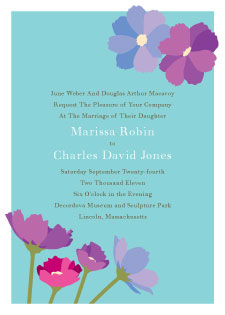 Sarah lives in Arlington, MA with her husband and two young boys.
See Sarah's beautiful designs at LookLoveSend by selecting your card type and querying by designer.  Orders for a quantity of 50 or more ship free!