About the flowers: "I asked for yellow and white tulips, and they gave me funeral flowers."
About the menu: "I was horrified – all the food was brown."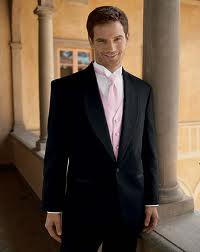 Believe it or not, these words were spoken by a 38-year-old groom while relaying his wedding planning experiences for the marie claire article "Rise of the Groomzilla" [May 18, 2011. Sara Clemence]. Sure, there will always be 100 bridezillas for every one groomzilla, but I'm wondering how many brides out there are taking a backseat in the planning of their nuptials. Anyone out there know a groomzilla?
The witty marie claire article shares some very entertaining Can-This-Really-Be-True stories. My favorites below.
The groom who led his fiance dress shopping all over Chicago. At each fitting, he made their wedding coordinator wear a tuxedo jacket and stand next to his fiance so he could envision the photos. After not finding a gown he liked, he flew everyone toNew York City to search for dresses there.
The groom who pitched a fit and stormed cursing out of the Four Seasons reception site one hour before his wedding because the flowers weren't grand enough.
The groom who attended six wedding expos in search of the perfect arrangements. He freely admits "wedding planning has evoked my inner girl; I used to cut my hair at Walmart, now I have my own stylist. And I may get a manicure with clear polish for the wedding."
The conditions for a groomzilla to erupt are ripe; men are getting married at a later age, are likely to be more financially secure and have developed their own tastes and opinions. Moreover, over 50% of married couples are funding their own weddings these days – and when the groom writes the checks it's quite possible that he has a stronger interest in where the money is going!
So, for all Groomzillas, Bridezillas, and more traditional engaged couples out there, LookLoveSend offers a growing collection of beautifully designed wedding invitations. Customizable designs are available to complement a broad range of wedding styles, color palettes, and themes. Take advantage of our current offer to receive free shipping on all orders of more than 50 cards.