Do you know someone with the tendency to turn a very special day into an "event," or worse, a theatrical spectacular? Know anyone who wished their wedding invitation could be made into a commercial or put on the cover of People magazine?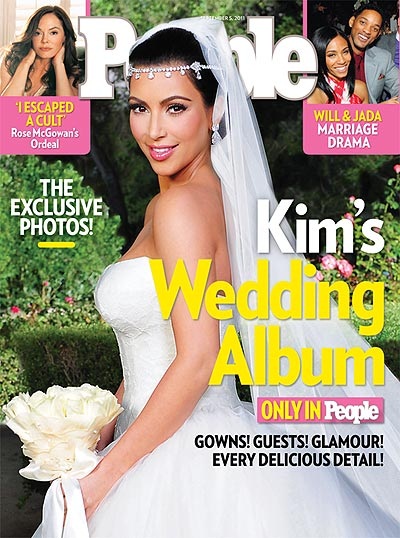 Certainly most people who bothered to blog or tweet about Kim Kardashian's divorce felt this way about the October 9-10 aptly named E! network television show, "Kim's Fairytale Wedding." They chalked up the quick divorce as no surprise. Most felt it was an expected ending to the perceived money-chasing, ratings-driven, unscrupulous business opportunity that was hyped for Kingdom Kardashian.
Many of us probably privately felt that while we would never ourselves engage in this level of opulence and manship, we all probably knew someone personally who, if able, would.
Psychology experts seem to agree that a general cultural phenomenon is increasingly responsible for driving divorces like Kim's and Kris's: a narcissistic culture where individuals do not successfully make the transition from "me" to "we" when it comes time to marry. Covered in a recent CNN article Narcissists Want Weddings Not Marriage, experts and psychologists claim that America's "cultural obsession" with weddings is on ample display with popular shows like Say Yes to the Dress and Bridezillas.
But not to diminish the importance and scope of planning that a wedding deserves, consulting psychologist Stephen Fabick acknowledges in the CNN article, "The wedding is, on the one hand, a healthy way of making a public commitment to each other and acknowledging that you're part of a web of family and friends that helps to nourish the relationship." On the other hand, he continues, "it preps like a cancer, where the focus is on the show and not the long-term or reality of the relationship."
The more you can remember the ultimate meaning of the day the better. Work through your decisions for each and every element–from which photo to use in your save the date cards to the car you'll drive away in–knowing that it's not a show, but rather an celebration of "we."
Stay tuned later this week for Part II of Keep It Real for specific ways to keep wedding planning focused on your relationship rather than the event. Get inspired today by some of the lovely wedding invitation messages available through www.looklovesend.com. You'll find an extensive selection of wedding invitations complete with coordinating save the date cards and ceremony programs in variety of styles. If you are planning a wedding for 2012, enter the 2012 Wedding Invitation Sweepstakes for the chance to win a complete wedding invitation suite valued up to $1500.